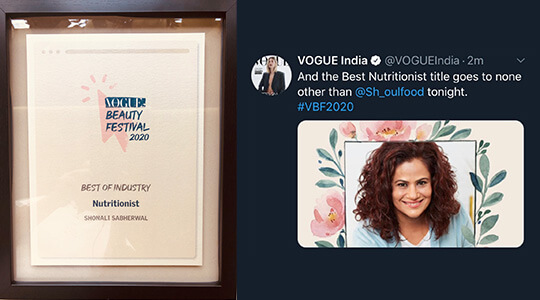 THE VOGUE 2020 'BEST NUTRITIONIST'
The Award I got this year The Vogue 2020 'Best Nutritionist' has been special, because the email I received from them said in their words "We believe that your contribution to the industry is invaluable and your work has helped many in crazy times like these." When I got this I realized that a lot of the leading players in the field are seeing what one is doing, and the efforts we make don't go unnoticed. The pandemic has made it necessary for me to review my strategy and how I put out my services for everyone to avail of them. So I was putting out courses on health and programs at prices that would be affordable by all. Also, I was trying to get out on different formats to people, e.g., on an app called Plan My Food that has been supporting the work I do. Plus all the information-sharing on my Instagram handle and website (via blogs) became more important to educate people on immunity and the true meaning of real, deep-rooted health from within. So the Vogue 2020 'Best in the Industry – Best Nutritionist' was such a lovely validation.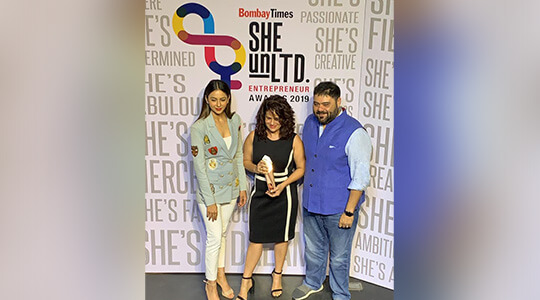 THE TIMES SHE UNLIMITED LAST YEAR 2019 'WOMAN ENTREPRENEUR IN HEALTH FOOD.'
Let me tell you this award (for any of you who are now applying), is not an easy award to get. We were selected out of 10000 applicants, made it to 5000 and then to 20 applicants. A grueling set of questions on everything from our mission, vision, financials, degrees were taken to arrive at a shortlist; and this was before we met 6 eminent jury members. The jury grilled us, and we had precisely 10 minutes to show of what we had achieved (I did this via a PowerPoint presentation) and actually proof of work; i.e., carry our products, etc. So, winning this award finally, with all the background checks done; and being selected by some of the biggest names in the business like Riyaaz Amlani, Sanjeev Kapoor, Rashmi Uday Singh – has been a fearer in my cap (I again say this with no ego).