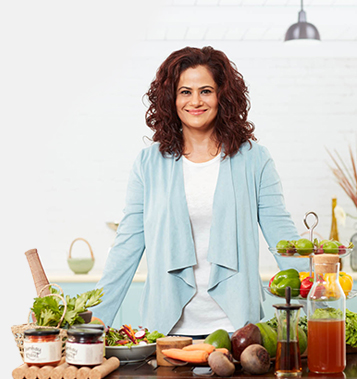 Collaborations
Collaborate with Shonali to help, uplift and support your brand or community. Shonali brings her decades of knowledge to create experiences that help you to live and achieve better.
Brand Endorsements
Collaboration with brands for advertisements and social media content including videos, podcasts and blogs. Media spokesperson and appearances at promotional events.
WELLBEING WORKSHOPS
Shonali's corporate wellbeing workshops cover all the areas of employee wellbeing. From fitness skills, to health awareness, eating healthy and tools for better mental health. These can be in person or online, typically for 1 hour with a Q&A session in the end.
School Programs
Developing school canteen menus by incorporating whole and fermented foods by camouflaging them with food that kids enjoy eating. Educating teachers, parents and students how to create a nutritious menu and be free of dairy, sugar, wheat, refined flour, processed preservative filled sauces.
Nutraceutical Research
Using food as medicine has been the core of Shonali's work. Shonali works with companies for research and development of functional foods, which provide a physiological benefit or protection against chronic disease. This includes ideating, creating new formulations, industry trends and branding.
Business Development
Marrying her background in marketing and nutrition, Shonali works on Business Development for brands in the health industry. She comes on board from the ideation stage, works on brand strategy & development, understanding the consumer psyche, market research, product development, all the way to marketing strategies for B to B and B to C.
AYURVEDIC RETREAT
Escape for a healing program under Shonali's guidance. Strengthen your immune system, restore balance & wellbeing. Put any health condition in remission. Shonali's retreats are all under the supervision of eminent Ayurvedic doctors and include a nutritional diet plan and diagnosis by her.
BRANDS SHONALI HAS WORKED WITH