IS BULLETPROOF COFFEE (BUTTER/GHEE (GRASS-FED) AND MCT OIL) GOOD OR BAD?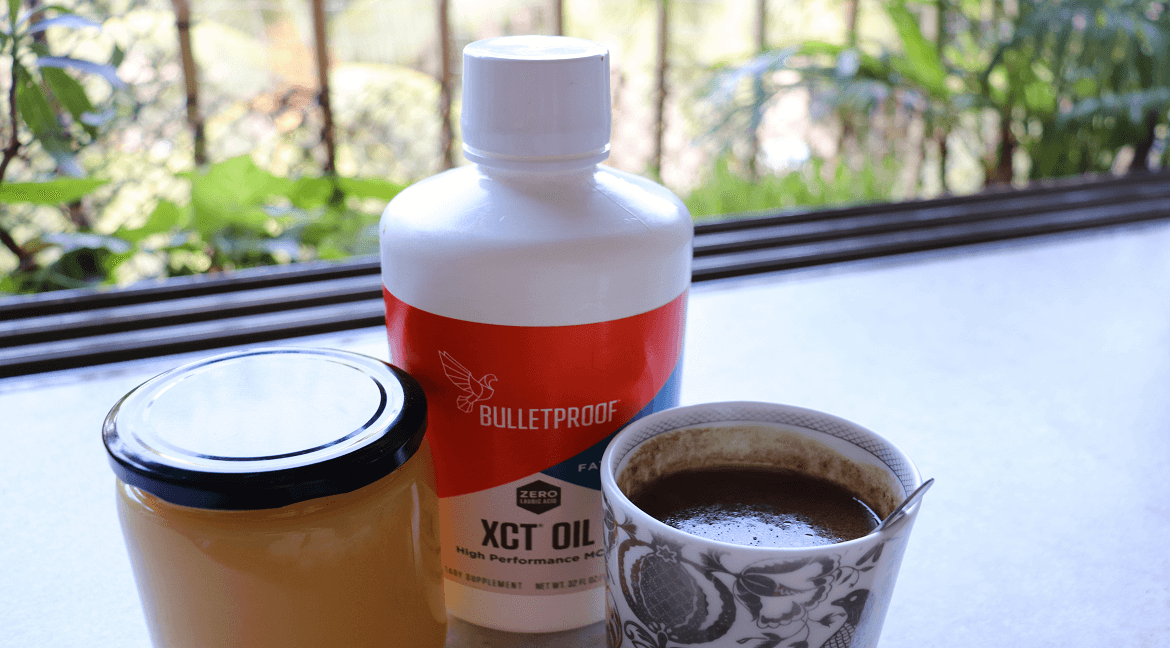 If we go back into history as to when ghee had started being added to coffee then it leads us to Ethopia in the 9thcentury. The practice was developed as it made carrying the coffee around while travelling easier. I feel the need to make you aware of this addition to your diet; since most have adopted it as a quick-fix to weight loss.
Dave Asprey the founder of Bulletproof Coffee bought out of the closet this same practice with the addition of MCT oil after one of his trips to Tibet; where he tasted Yak butter in his tea on a hike up the Himalayas. Asprey says that the combination of ghee with the coffee would raise the fat content of your diet contributing to fat burning and energy; plus due to the addition of MCT (medium chain triglyceride) oil which gives instant energy as it hits the liver and stabilizes the coffee for better mental clarity.
PROS
MCT oil does help with providing instant energy (all medium
chain triglycerides do this)
The coffee helps you burn fat (NOTE: the sample size to test this hypothesis on human was too small)
Butter/ghee (grass-fed) is a source of good fats and have Vitamins A, E and K
The original bullet proof coffee is mycotoxin free i.e., higher quality coffee for sure
CONS
While the addition of coffee to your diet is great, in moderation; it will push those already in adrenal fatigue with their cortisol levels, and into more of a stress mode. Thus depleting energy levels further, after
consuming the coffee
If you have weak digestion; it will push the digestive system into a weaker mode (I would like to clarify here going to the pot after you consume the coffee, because it stimulates a bowel movement is not a
signal that you have strong digestion)
Replacing a meal with the coffee, will make you consume lesser calories (which will not be great in the long-run); and eating a meal with the coffee will make you add more calories
The climate is tropical in India, with that much of fat hitting us first thing in the morning, it may not work for everyone. Consuming the coffee in cooler climates and seasons and while on a hike is different than having it daily in a warm climate such as ours
The liver does not like greasy foods, so it could work negatively for some people, specially those with NAFLD (non alcoholic fatty liver disease)
My experience with the addition of ghee + MCT oil in Bulletproof coffee
Tastes yummy!
Definitely purer coffee than other's available and do NOT trigger of the moods like other coffee would do (this is because of the slow absorption of the caffeine, due to the addition of fat, plus the whizzing in the blender would make some of the lipids [oil/ghee] absorb the caffeine. Making the fats like a timed-release mechanism for the caffeine )
Feeling of fullness, I always skipped a meal (Not good in hindsight!) as in breakfast one needs to establish steady sugars for the day through a complex carbohydrate and this did not happen for me
Drinking it the first thing in the morning, instead of something more conducive for your intestinal health made me think otherwise
My friend who is a non vegetarian, gained weight as she had plenty of other fats in the diet; this coffee with ghee/MCT oil being an addition to more fats in her diet did not help her
NOTE: According to the TCM perspective, the liver is hurt by overt amount of fats in the diet; this is something you must keep in mind, and maybe go on and off the coffee; rather than doing it over a long period of time.
Be mindful, be happy!