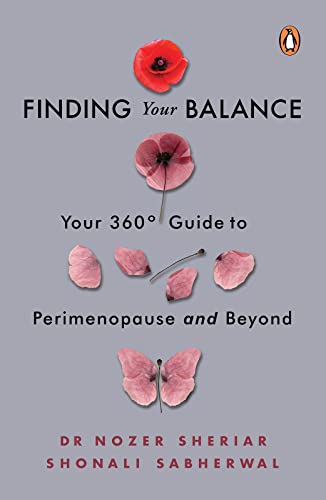 Finding Your Balance: Your 360° Guide to Perimenopause and Beyond
Shonali Sabherwal's fifth book is co-authored with Dr Nozer Sheriar an eminent gynaecologist renowned for his work. Do you wish to learn about the roles of your hormones at any stage of your life, especially in your perimenopause years? Can your concerns and symptoms only be medically addressed, or do you have a role to play? This book is a bible for women who would like to learn about navigating their lives in their perimenopause years. It helps women understand the role that medicine, diet, lifestyle and environmental factors can play in achieving a balance.
Order Now
With Finding Your Balance Your 360 degree° to Perimenopause and Beyond, Dr Nozer Sheriar and Shonali Sabherwal bring their expertise together to help women navigate their lives through the perimenopause and post menopause years. This book will help women to get on top of any issue related to their hormones both medically and holistically.

How can women achieve a balance?
With so many issues women are going through in their perimenopause years, this book is the answer to every woman's concern in these years.
Can you manage your hormones using the practices, advice, and diet outlined in this book?
Dr Nozer Sheriar and Shonali Sabherwal have teamed up to give you an overview from a medical and holistic standpoint in this book. This book will help you go through the perimenopause years more informed and on top of your hormones and how they affect you.
What are the key takeaways from this book?
A medical perspective backed with a sound diet plan for each of the health concerns you face going through the perimenopause years and also post-menopause. This book will help women be more informed about their health and hormones.
How easy will advice and diet be to follow?
This book has been written in a way to consume the information in any which way you'd like. Use it as a reference manual or take away bite-sized information. Choose to do precisely what you'd want to. It is packed with rich information coming from making you more aware of your options when faced with a situation, and how to ask your doctor the right questions. The diet and pelvic health exercises make it easy to adapt to your life.