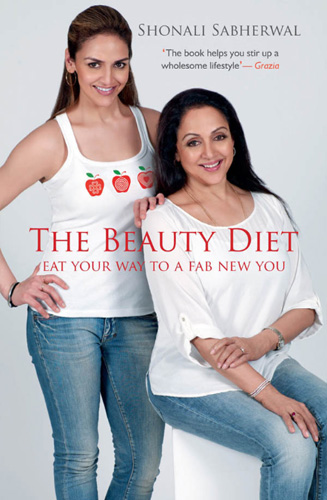 The Beauty Diet
Aren't we all looking for that ever lasting beauty? The definition of beauty is different for people and also changes for us as we evolve with time. However, what remains constant is that you can achieve true beauty outside by addressing what is within. The Beauty Diet helps you with tools to reach everlasting health and happiness to a truly beautiful you.
Order Now
Can eating make you look good?
Yes, it's true. Diet provides nutrition but also makes you look beautiful by helping you lose weight, getting a proportionate body, making your skin glow and your hair and eyes shine.
What is The Beauty Diet in a nutshell?
The Beauty Diet, provides you simple secrets to using everyday foods to attain a healthy and beautiful you. The content of this book is grounded in a rich history of healthy eating, building strong immunity and giving you true beauty from everyday simple foods.
Does this book have only dietary changes?
Apart from diet and lifestyle modifications this book also teaches you the many myths associated with dairy, how your organs work to help you digest the food everyday, nutritional value of special foods, food combinations, descriptions on supplements and how foods affect your emotional quotient.
What are some of the topics covered in The Beauty Diet?
This book covers how to do a basic detox to cleanse the body, make your skin glow, your hair shine, and your teeth healthy, tuck that rebellious tummy in, get rid of fat thighs and flabby arms, eat to look younger and change your mood with the right food.
Is the book easy to follow?
I have outlined clear diet plans separately for each beauty element. Using real life stories plus case histories of celebrities such as Katrina Kaif, Neha Dhupia, Esha Deol, Hema Malini, Jacqueline Fernandez, Chitrangada Singh, Shekhar Kapur and Kabir Bedi along with other clients; I showcase how you can achieve your goals.
Will it be difficult to execute the guidance shared in this book?
With diet charts, recipes, cooking techniques, illustrations and Kitchen FAQs, the Beauty Diet will leave you equipped to start working on your wellness goals. So get ready to welcome the fab new you!