SURPRISE! YOUR NEW FAVORITE CAESAR SALAD IS VEGAN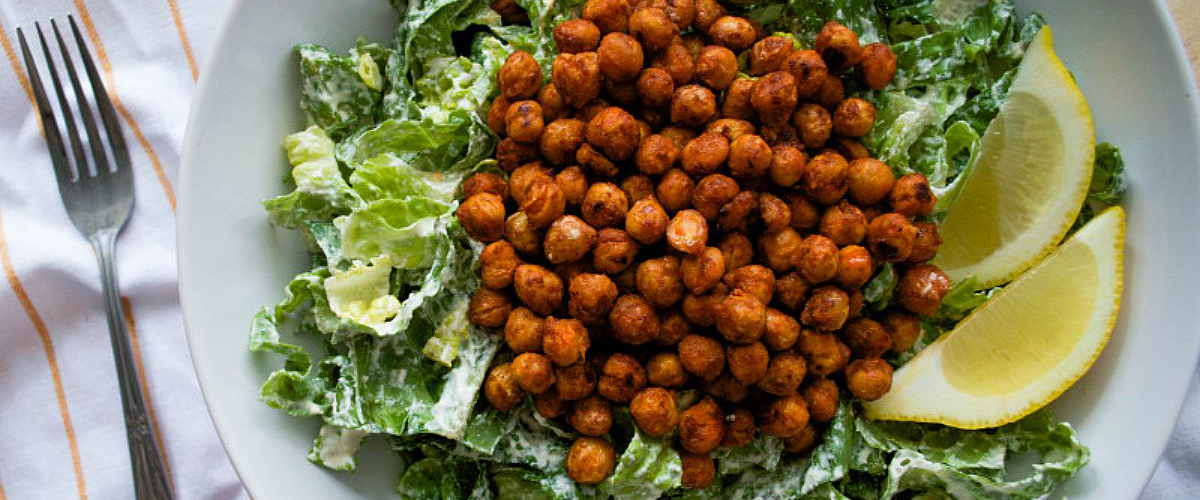 45MIN
Nearly every food lover I know has a favorite Caesar salad recipe. It may be served at a neighborhood Italian restaurant, or it may be a recipe that was passed down by a family member. It may be found online, in the pages of a cookbook, or in the words of a roommate or a friend. It might be deconstructed, or rustic, or refined. But there's always a favorite.
This is my favorite Caesar salad. It's a favorite because I happened to love Caesar salad before I went vegan and I wasn't sure I'd be able to recreate the recipe without eggs, or mayonnaise, or anchovies, or Parmesan. As it turns out, I could.
This recipe proves that there really is nothing that the magical combination of cashews and nutritional yeast can't do. Here, they provide a cheesy, savory flavor and a creamy texture. To replace the characteristic hints of anchovy, I use either dulse or kelp flakes (both of which are easy to find at health food stores). Like most seaweeds, they're salty and full of umami; still, they're mild enough to be palatable even to seaweed haters. Just to keep things interesting, I use a mixture of dinosaur kale and romaine—trendy meets old-school.
And of course, there must be croutons. I like to use polenta croutons, which are crispy on the outside and tender in the center—a nice twist on croutons as usual. I like how dense they are and the way they turn a side dish into a hearty, substantial salad that's perfect for an easy lunch. They're a little more time-consuming to make than regular croutons, but their versatility makes up for it: Pile them onto a bowl of soup, toss them with some roasted cherry tomatoes for a lovely summer appetizer, or better yet, use them in a non-traditional panzanella. Think of them as "garnish with substance," and then see if you don't get hooked.
Vegan Caesar Salad with Polenta Croutons
Serves 4
For the salad:
1/2 cup raw cashews, soaked overnight and drained
3 to 4 tablespoons freshly squeezed lemon juice, to taste
2/3 cup water
1 1/2 teaspoons kelp or dulse granules (find these at a health food store)
1 large garlic clove, minced
1 tablespoon mellow white miso
1/2 teaspoon salt
1/2 teaspoon Dijon mustard
4 tablespoons nutritional yeast, divided
1 bunch dinosaur kale, stems removed, washed, dried, and cut into ribbons
1 head romaine lettuce, washed, dried, and cut into ribbons (alternately, you can use two heads of romaine and omit the kale)
For the polenta croutons:
3 1/2 cups water
1 cup fine yellow cornmeal (polenta)
1 teaspoon fine salt
1 tablespoon olive oil
Coarse salt, to taste
Pepper, to taste