MENOPAUSE & PERIMENOPAUSE DIET MUMBAI
Menopause is a stage that comes after twelve consecutive months have passed since a woman's last period. It is a natural process that marks the end of menstruation in women's lives.

What causes a difficult menopause?

Poor nutritional choices, erratic lifestyle, and stress could all be factors that build up to a tough menopause. Usually, a difficult time during the menstrual cycle (PMS) itself is an indicator.

What is Shonali's USP (Uniqueness)?

Menopause and pre-menopause can be tough times in a woman's life, and a woman needs to stay on top of this phase with her diet and lifestyle. Shonali has helped many women take charge and balance out their hormones in such a way as to sail through their menopause and handle the pre-menopause phase effortlessly. Shonali's perimenopause diet plan can normalise hormonal imbalances by impacting the overall endocrine and adrenal systems. This is achieved by introducing simple dietary changes. Since Shonali is a certified yoga Pilates teacher in addition to a menopause nutritionist, her recommendations go beyond dietary changes. Her diet plan also includes certain yoga pilates exercises to balance out hormones.
How does Shonali help?

Shonali's approach relies on the tenets of Macrobiotic philosophy: using the oriental system of 'facial diagnosis' and touch meridian diagnosis (if needed) to analyse the strength and health of your organs. Her framework (like Ayurveda) relies on using the foundation of analysing your constitution (that which you were born with: blueprint from your parents) and condition (that which you have created growing up). Macrobiotic philosophy uses the 'yin' and 'yang' elements of 'energy' or 'prana' to help her diagnose everything you are or do. This is her training and USP and how she actually zeroes in on your diagnosis and further prognosis.

As a menopause nutritionist, she uses the food tools and the principles of the Macrobiotic approach to aim at strengthening your gut, detoxifying you of all the accumulated toxins ('ama' in Ayurveda plus any accumulation of bad gut bacteria causing 'dysbiosis', i.e., when bad bacteria outweigh the beneficial ones) and balance the body's pH. Her approach is to make you identify the toxins you are consuming from foods, the environment and your lifestyle and get rid of them. Plus, bring in food elements to clean up your gut to help you detoxify. She then layers this with holistic, natural everyday foods, using her knowledge of balancing the 'foods' and 'cooking styles' to give you the required strength to overcome your ailment and encourage balance.
TESTIMONIALS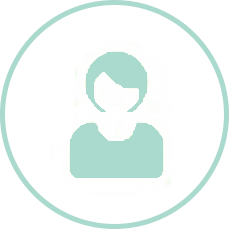 JYOTSNA BAKSHI
45, School Teacher
"I suffered with very severe PMS (pre-menstrual syndrome) all my life, his was because I also had PCOS (polycystic ovary syndrome). I did not realize till I met Shonali that this would lead me to a …